$30.00 USD
Regular price
Sale price
Unit price
per
Sale
Sold out
Authentically scanned Super 8mm film textures & overlays. Including film mattes, grains, dust and scratches & burns. Bring back some retro nostalgia with these film looks!
View full details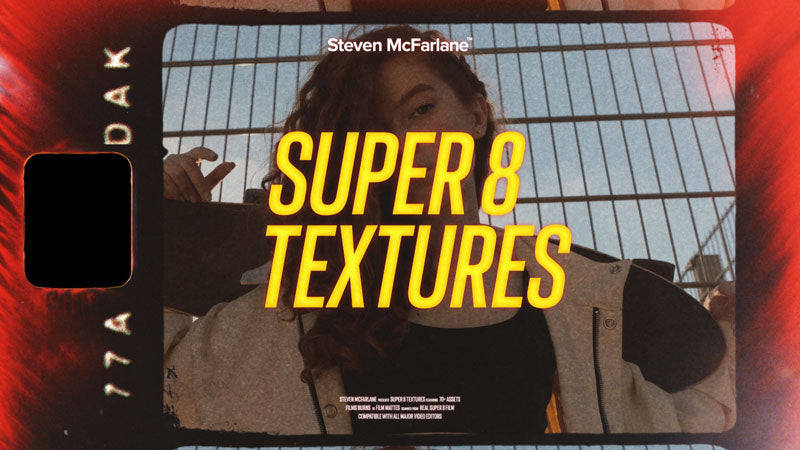 Add the vintage touch to your videos with Super 8mm film textures, boasting over 80 film burns, borders, grains, & more to elevate your footage.
Features

80+ Film Textures (.mov)
Real 8mm Film Textures
Scanned in 4K
Apple Prores Codec (.movs)
Film Grains, Film Burns, Dust & Scratches, Film Borders & more...

Designed for

Filmmakers
Video Editors
Motion Designers
Music Videos
Graphic Designers
Directors & Documentaries

Level up your videos with a vintage charm using easy-to-use drag and drop textures. From warm and grainy tones to stylish transitions, our Super 8mm film textures offer something for everyone.

Compatible with all video editors
Bring the vintage vibes...
Experience the true essence of film with our meticulously scanned textures. Using real super 8mm film & a state-of-the-art 4K film scanner. Bring your footage to the next level with stunning high-quality effects. Trust us to provide you with the perfect finishing touch for your next masterpiece...
See the pack in action
Film Burns..

Over 50 authentic film burns to choose from. Our range includes everything from subtle light leaks to larger, more dramatic burns that even distort the sprocket.

Real Kodak Film Grains

Explore our selection of Kodak film grains, offering a different levels of grain to suit your creative vision. Choose from our 50D and 200T Kodak grain textures.

Modular Film Borders

Diverse range of film borders and aspect ratios. With options including 4:3, 16:9, 21:9, and more, you can choose the perfect framing for your project.

Perfect for Motion Graphics too..

These textures arent just for filmmakers, they are perfect for motion designers or graphic designers wanting to add vintage imperfections and texture to their projects.
Whats included
80+ Super 8mm Film Textures (.mov)
Apple Prores Codec (.mov)
4K Resolution (3840 x 2160 pixels)