• 130+ Original VHS Textures (.mov)
• 15+ VHS Sound Effects (.wav)
• Authentic 4:3 Ratio
• All files seamlessly loop
• HD Upscaled to 1440x1080
• Prores 422 Codec (.mov)
• Supplied with files to create own Titles & Logos
• Additional Transitions / Glitches / Control files
• Modular Design - (Create your own loops)

easy to use

These are just drag and drop files that you can place directly in the timeline ontop of your original footage, then simply select a blending mode (screen works great) and adjust to taste.

Hint!: A little channel blur and unsharp mask on your original footage helps blend & look more authentic.

add your own text & logos!

I have supplied the pack with After Effects files that you can simply replace your logo or text. Create vintage looking titles or intros in seconds.
These are extremely easy to use and the results are very realistic. Authentic VHS displacement, shake, glow, cross blur & colour.
There are 3 files in total. One is a 3D Spinning Logo, another is a logo static, and the last is to edit text/titles. You can use replace the background VHS texture if you want a different look. I have created these with beginners and advanced users in mind, begginers can easily just drag and drop and advanced users can dive into the effects and tweak to taste.

PRE KEYED MENUS & OVERLAYS

Alpha channel ready controls & overlays. Easily drag and drop pre-keyed menus & overlays on top of your footage. These include timecodes, controls & camcorder overlays. Supplied with alpha channels ready there is no need for blending modes.

Over 10+ transparent overlays included.
DIFFERENT AMOUNTS OF TEXTURE


modular design & controls

I wanted to do something a bit different with this pack. I have created these loops to be modular in nature, allowing you to stack the loops together to create your own loops. For example stacking the files in sequence (Play_1, Transition_2, Subtle_2, Reverse_2, Stop_2) would give you a loop that looks like the video is being played, reversed, and then stopped. It would create a nice seamless VHS loop.
Now add your footage below that, play it, reverse it and stop it, and it will look & act like it has been done on a VHS. There are countless options you could create with these.

17 Control files (Play, Pause, Rewind, Fast Foward..etc)

---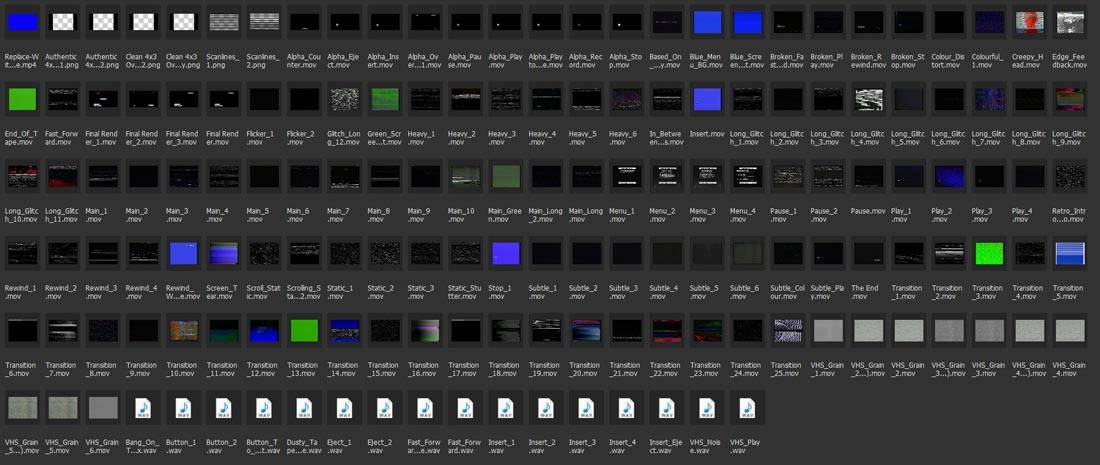 ORGANISED FOLDERS
• 33 VHS Main Textures (.mov)
• 37 Transition & Glitches (.mov)
• 6 VHS Grains (.mov)
• 16 VHS Overlays & Menus (Transparent .movs)
• 24 Controls Textures (.mov) (Play/Pause/Rewind.. etc)
• 9 Misc Textures (.mov)
• 6 4:3 Frames & Scanlines (.png)
• 16 VHS Sound Effects (.wav)
• 3 After Effects Projects- Text & Logo Files (.ae)


COMPATIBLE WITH ALL MAJOR VIDEO EDITING SOFWARE